Palmitoylethanolamide (PEA) is a natural and safe nutraceutical against chronic pain, inflammation and degenerative diseases of the central nervous system. More than 400 scientific articles have been published on PEA describing its pleiotropic effects.
Leader in Quality and Innovation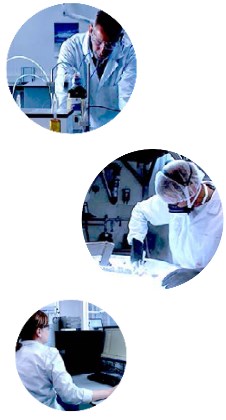 OptiPEA® is a premium brand for palmitoylethanolamide worldwide. When it comes to manufacturing palmitoylethanolamide we have adopted and work in accordance with EU GMP standards. We only use high quality raw materials, novel process engineering and highly-sensitive full spectrum chemical analysis for research and quality assurance of our products.
The same stringent requirements as used in pharmaceutical manufacturing are implemented in the manufacturing process for OptiPEA®. All the steps are monitored continuously, and each production phase is documented in great detail.
OptiPEA® is produced in Europe in our state-of-the-art production facility. It is located in The Netherlands and has received EU GMP certification. OptiPEA® represents safety, reliability and quality.
Not all palmitoylethanolamide is created equal
OptiPEA® is a registered logo and trademark, representing high-quality and pure palmitoylethanolamide. OptiPEA® is developed for the use in dietary supplements. A lot of time has been invested in sourcing, producing and testing OptiPEA®.
Teaming up with PhD chemists and a state-of-the-art GMP certified Europe based production facility enable us to produce a premium quality palmitoylethanolamide. We believe this is of utmost importance for a natural nutraceutical such as palmitoylethanolamide which is usually used for longer periods of time.
Available OptiPEA® products
---

Standard Powder Palmitoylethanolamide
A very fine distributed OptiPEA® powder with >99% PEA.

Water Soluble Palmitoylethanolamide
A water soluble version of OptiPEA® with a 90% PEA load.

Liposomal Palmitoylethanolamide
A liposomal powder version of OptiPEA® with a 60% PEA load.
Science, Quality and Health
---

Palmitoylethanolamide
Palmitoylethanolamide (PEA) is a bioactive functional lipid that belongs to a class of molecules known as fatty acid amides. PEA is a naturally occurring compound that dates back hundreds of millions of years up the evolutionary path and is found in plant and animal cells. PEA has anti-inflammatory as well as pain-relieving properties. It acts as a protective and repairing molecule supporting the self-healing ability of the body.

Pure palmitoylethanolamide
By using highly sensitive methods of analysis we are able to characterize the complete composition of our raw material. Our PhD chemists know our PEA in detail and are very meticulous and strict when it comes to quality control, product release and product analyses. OptiPEA® has a consistent and minimal purity of 99%. The fine powder has a crystalline structure which makes it suitable for different applications.

Unique health benefits
PEA has often been described as a pleiotropic compound. It's a "magic shotgun" capable of modulating numerous complex systems by hitting different important cellular targets simultaneously. Oral supplementation with PEA is an interesting alternative or worthwhile complementary strategy in the treatment of a large number of disease states, especially chronic pain, inflammation and degenerative diseases.